Whole wheat spaghetti and caviar
A dish made to test your skills: a fancy first course which is definitely healthy. The final touch is, as always, the caviar, resting gently on top of the "cone" of spaghetti.
INGREDIENTS:
320 g of spaghetti
Parsley,fresh coriander, ginger
Extra virgin olive oil
Soy sauce
Octopus ink
Fresh tomatos
100 g of caviar
Sauce: slice a piece of ginger the size of a walnut and boil in a little water with vinegar and sugar, two sprigs of parsley and fresh coriander. Boil for 1 minute and thicken with a little corn starch and extra virgin olive oil, add soy sauce and put on one side. Sieve the sauce and pour onto the cooked spaghetti. Dried salted cod: remove the skin and surface salt, cut into 80 g pieces and steam in a vacuum bag at 50° for 12 minutes. Cool and open the vacuum bag. Flake the fish and add to the spaghetti and sauce. Serve the spaghetti luke-warm and decorate the plate with octopus ink, drops of fresh liquidised tomato with a dressing of your choice, and a spoonful of caviar.
Purple risotto with yoghurt, raw and cooked scallops and caviar
Purple and black, a fashionable dish, a delicious offering. A nice plate will enhance this recipe that deserves precise timing when serving, especially when it comes to the risotto, cooked preferably a little "al dente".
INGREDIENTS:
200 g rice
300 g cooked and liquidised beetroot
600 g meat broth
6 scallops
125 g fat-free yoghurt
50 g sour cream
salt, pepper
100 g of caviar
Mix together and place in a cream dispenser. To make the risotto toast the rice without vegetables or oil, add white wine and when it has evaporated add the beetroot juice and meat broth alternately. Salt to taste. In the meantime mix yoghurt and cream, add salt and pepper. Cook the whole scallops in a very hot frying pan with a spoonful of oil. Calculate around one scallop per person. Slice two raw scallops to place on top of the risotto. When the risotto is ready (use Carnaroli rice cooked for around 14 minutes from when the broth is added), stir in extra virgin olive oil and spread onto a plate. Make a spiral pattern with the yoghurt sauce. On top of the risotto place the sliced raw scallops, the cooked one cut into four and small heaps of caviar.
Persimmon jelly, broccoli mousse, yoghurt and caviar
Starts your evening with inspiration and can become the main attraction, along with some finger food for a luxurious aperitif. Ethereal flavours in spoons made strictly of mother of pearl.
INGREDIENTS:
2 ripe persimmons
4 sheets of gelatin
salt, pepper, extra virgin olive oil
3 broccoli
200 g cream
Peel the persimmons, sieve the pulp and add the salt, pepper and olive oil. Soak the sheets of gelatin in water and add to the mix. Place in the fridge for at least 2 hours. Broccoli mousse: steam 3 broccolis, liquidise together with a little of the liquid produced by steaming, add salt and pepper to taste and cool. When cold add 200 g cream and 2 sheets of gelatin. Place the persimmon gelatine in small glasses, add the broccoli mousse and serve with caviar and yoghurt.
"Cooked and cruo" cauliflower with caviar
A "poor" vegetable but "rich" in beneficial properties due to its anti-cancer, antibacterial, anti-inflammatory, antioxidant active ingredients. A neutral flavour, slightly perceived, the different degrees of crispness between the steamed and raw ("cruo" as venetian tradition) cauliflower, lead to an ecstasy of unusual flavours.
INGREDIENTS:
200 g of cauliflower
5 eggs
60 g of caviar
50 g of olive oil
1/2 lemon
salt, pepper
Cut the tops of the cauliflower and keep aside, cut what remains into pieces and cook in salted water, drain, put in a blender with an egg yolk and emulsify with olive oil. Season with salt and pepper. Boil the remaining 4 eggs for eight minutes, peel them and mash them on a large sieve. Place the chopped eggs in a bowl, add the warm cauliflower purée over it as well as the caviar and finish with raw cauliflower slightly marinated with olive oil, salt and pepper.
Blinis, sour cream, cream of smoked aubergine and caviar
Colour, creativity, joy: a "brush" for you to paint an imaginative composition with a palette of simple ingredients at the start of a refined gathering. Express your artistic impulse with the cream of aubergine on a pretty and unusual, maybe black, plate.
INGREDIENTS:
2 aubergines
extra virgin olive oil
salt and pepper
50 g of caviar
sour cream
blinis
Prepare the sour cream with whipped cream and lemon juice, mix well together, leave in the refrigerator. for 4 hours.
FOR THE BLINIS:
First dough preparation: 250 g of milk, 20 g of yeast – mix and let leaven for half an hour at 40°C.
Second dough preparation: 350 ml of milk, 15 g of salt, 400 g of flour, 3 eggs, 150 g of melted butter. Stir the first dough with the second dough, let it leaven and rest for at least half an hour. Finally, add egg whites with 40ml of sugar. Allow to leaven for another hour and cook like a pancake on a non-stick frying pan. Using a very hot pan, roast the aubergine well over the entire surface of the skin so that it acquires a smoked flavour. Separate the pulp of aubergine with a spoon and smash it, season with extra virgin olive oil, salt, pepper and the roasted skin. Serve and garnish with caviar.
Finger food: caviar and creativity
For a classy aperitif, an informal dinner, an exclusive party, entertain your guests with a delicious and delicate "finger food" to be enjoyed strictly without cutlery, accompanied by elegant Italian or French sparkling wine..
blinis, sour cream
toasted bread with sour cream, stack of boiled potatoes and parsley, cherry tomatoes and caviar
casatella cheese (Italian fresh cheese) mousse with crispy polenta and caviar
avocado purée, scallion and caviar
Essence of fennel, orange, shrimp and caviar
A "Mediterranean" dish, able to surprise with its easily recognisable aromas. The acidity of the orange is nicely balanced with the other ingredients, for a combination that is perfect.
INGREDIENTS:
n° 2 pieces of fennel
3 gr. of fennel seeds
400 ml. of water
n° 1 orange
n° 8 shrimps
60 gr. of caviar
dill, salt, pepper, olive oil
Clean the fennel keeping the bulb. Cut all leftover parts into thin pieces. Put them in a saucepan with the fennel seeds, orange peel and salt. Pour boiling water and seal hermetically. Allow to stand until it cools. Strain with a strainer and keep warm. Peel the orange wedges and cut into small pieces. Peel the prawns and marinate the tails cut in half with olive oil, pepper and chopped dill. Arrange 4 teaspoons of caviar, four little pieces of orange and 4 little pieces of scampi in a bowl. Pour over the boiling infusion of fennel.
With such an ethnic dish, your finger food becomes very glamorous and fashionable. Complete the table with the classic "hashi" Japanese chopsticks), sauces and ginger in little traditional bowls.
INGREDIENTS:
300 gr. pre-cooked cous cous
200 gr. Salmon (Sockeye) cut into slices
2 sheets of Alga nori
1 cucumber
1 avocado
wasabi paste
1 cm thick pineapple slices
1 jar fat-free yoghurt
soy sauce
mint leaves
semi di sesamo
salt, pepper, olive oil
Couscous: 300 g pre-cooked cous cous and 600 g water. Boil the water and cook the couscous for 5 minutes, stirring constantly.
In a mixer mix the yoghurt and mint with a little cucumber skin, salt and pepper and place in fridge. Roasted in a frying pan and then dip the pineapple slices in oil, salt and pepper and cook in the frying pan; cut into cubes and place in fridge. Dampen the alga nori (lightly brushed with water) with water and place on part of the couscous, fill to taste with a little wasabi paste, cucumber, avocado and salmon, all cut into strips. Make into a roll, wrap in cling film and place in fridge for at least one hour. Do the same without the alga, rolling the couscous in black and white sesame seeds, or roll the other way round (see photo), cut the couscous sauce into rounds and serve with the pineapple, yoghurt and mint sauce and soy sauce mixed with wasabi. Place the caviar on top of the sushi rolls.
Spoonful of potatoes with parsley, quail egg and caviar
Simply perfect: another idea reflecting a traditional combination to offer caviar in all its perceptual delicacy, with potatoes and eggs. Exclusive moment of pleasure to start an evening chatting with friends.
INGREDIENTS:
200 gr. of potatoes
4 spoonfuls of extra virgin olive oil
salt, pepper
parsley
quail eggs
50 gr. of caviar
Peel and cut up 200 g potatoes and boil. When cooked put through a potato ricer and mash with 4 spoonfuls of extra virgin olive oil, salt and pepper. Leave to cool and when cold add the chopped parsley.
Quail eggs: boil a pan of water with a spoonful of white wine vinegar. When the water is boiling, crack one quail egg and pour into the water. Let the egg cook without disturbing it: put to cool in a bowl filled with cold water. Serve on ceramic spoons (not steel) with the aid of a mould: place the potatoes first, then the egg and top with the caviar.
White egg cream with crispy yolk and caviar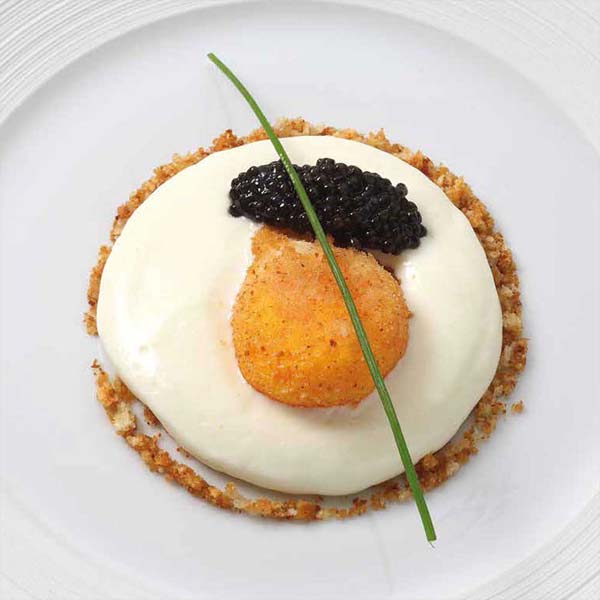 Classic tastes paired with caviar in a recipe that combines very delicate, multi-sensory perceptual aspects, highlighting the contrast between the different degrees of "crispness" of egg yolk and caviar, a traditional combination and modern preparation.
INGREDIENTS:
n° 4 eggs
60 gr. of breadcrumb
240 gr. of fresh cream
1/2 lt. of peanut oil
60 gr. of caviar
10 gr. of chives
salt, pepper
Separate the yolk from the egg white. Boil the cream for 4 minutes, add salt and pepper. Remove from heat, add the egg white, blend and strain with a strainer. Add the egg yolk to the breadcrumb and let rest in the refrigerator for at least 2 hours. Thicken the egg white with the cream in the microwave, then pour into a blender and emulsify until a soft cream is obtained. Fry the egg yolks in oil at 170 degrees, dry and season with salt. Place the white egg cream in a shallow dish positioning the fried yolk in the centre and add a teaspoon of caviar and finely chopped chives over it.
Cold spaghetti with burrata cheese, scallion and caviar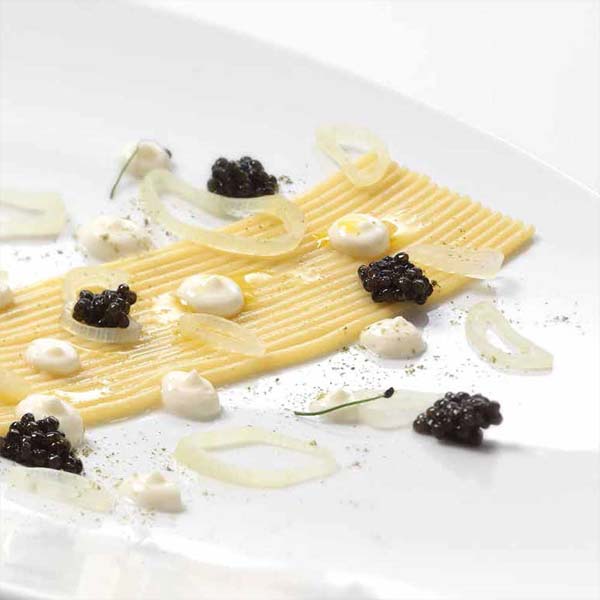 An original idea that can be offered as an appetiser, for an evening with caviar as the main attraction. With a simple and impressive taste, its creative arrangement on a large white plate deserves special attention.
INGREDIENTS:
240 gr. of spaghetti
160 gr. of broth of burrata cheese
60 gr. of scallion
60 gr. of caviar
salt, pepper, olive oil
Chop the shallot, salt it abundantly for an hour, then wash it under running water and dry it. Cook the spaghetti al dente, cool it under running water and toss with olive oil, salt, pepper and scallion. Put the burrata cheese broth in a bowl, place the spaghetti rolled up and caviar.
Beef carpaccio with citric salt, caviar and crispy bread with butter
Caviar with a second course of meat? It is possible and certainly intended to make your guests happy who, surprised by the unusual ingredients of this refined dish, will shower you with compliments.
INGREDIENTS:
240 gr. of cleaned beef fillet
n° 1 lemon
20 gr. of salt
20 gr. of sugar
60 gr. of caviar
50 gr. of fresh bread
50 gr. of butter
50 gr. of cream
salt, pepper, olive oil
Prepare the lemons one week in advance, cut them in half and cover them with salt and sugar mixed together, let them marinate at least one week, then wash them in running water. Carefully cut the peel, cut into thin julienne strips and set aside. Cut the fillet into four slices, flatten them between two sheets of wax paper with the help of a meat tenderiser. Cut the bread into small 2 mm cubes, sauté in a pan with the butter and a pinch of salt. Arrange the meat on a plate, season with salt and pepper and brush with oil. Garnish with the lemon peel, caviar and toasted bread cubes. Finish with a few drops of semi whipped cream, salt, pepper and a splash of lemon juice.